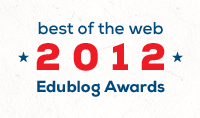 The 3/4 Learning Legends are new to the world of Educational blogging, but educational blogging is by no means new! The Edublog Awards have been running since 2004 and highlight some of the most amazing blogs in education.  The purpose of the Edublog Awards is to promote and demonstrate the educational values of blogging.
We have been so inspired by many of the blogs that we chose to nominate and many more out there, which made our nominations a very hard decision!
Here are our nominations:
Best Class Blog
We have looked to 2KM and 2KJ Blog and now 4KM and 4KJ Blog as inspiration from day one for our blogging. They use a great variety of web tools and Mrs Morris and Miss Jordan are always so helpful when we ask for advice or help and their posts and ideas are always fantastic! They are from our area as well and We have developed a very strong friendship and Mrs Yollis' class are always teaching us something new. Mrs Morris even had the chance to visit Mrs Yollis and some of her students and parents earlier this year. 
Most Influential Blog Post
Mrs Yollis and Mrs Tolisano from Lanqwitches blog had the first Mystery Skype and now hundreds of classes around the world are participating.  We participated in 2 this year and they were by far some of the most engaging and enriching learning experiences we have had. Her post is fantastic because it goes into details of different groups students can form to get all students involved in the Skype.  This makes the experience a team effort and makes for a very active learning experience for all.  Thank you both for your inspiration and especially Mrs Yollis for giving us such a great format to follow.
Best Student Blog
9 year old Josie, has been only blogging for two months, but she is one of the most talented young bloggers I have seen.  She always has interesting post topics such as: Book reviews, Inventions, Her Dream House.  She also connects her learning to her blog by posting about all the events at school that are interesting to her.  Her posts are always structured very clearly and are very easy reading. She has developed her own style of blogging that is truly a unique online voice.  With a tagline like, "Comment in, Comment out, You will Love it without a doubt!" what is there NOT to love about this blog.
Best Teacher Blog
On Edna's blog, she states "I'm Edna Sackson. I'm a teacher, a learner, an inquirer… " I would add inspirer to that list as well.  Her blog posts always make me think in different ways and inspire me to look at things from a new perspective.  Her posts always seem to strike a chord with me, whether they are about thinking strategies, creativity, or the use of technology in the classroom.
Best Ed Tech/Resource Blog
This blog is written by Kathleen Morris from 4KM and 4KJ, who won Victorian Teacher of the Year this year.  Her award is well deserved for many reasons, as she is an amazingly inspiring teacher.  Not only is she inspiring, but she generously shares all her ideas and time to promote the use of technology in the classroom.  Her passion is evident from her blog which is full of educational resources, advice and ideas.  Thank you for all your support through the years!
Best Individual Tweeter
Mr Mannell comments on many of our posts and student blogs. He asks great questions to make us think. Mr Mannell is also great at linking up different classrooms around the world and suggested many blogging friends to us at the start of our blogging journey. He is a retired primary school teacher who uses Twitter to find and support students and classes around the world.
Best Use of Audio/Video/Visual/Podcast
Our blogging friend Mrs Monaghan and her Room with a View students are amazing at tracking their learning through videos, animotos and interesting web 2.0 tools. Their blog is always very visual with engaging things to read, listen to and look at each time we visit.  We especially love checking in on all the different projects they are up to and their visuals make us feel as if we are there in the classroom with them. What an fantastic way to share your learning Room with a View!
Lifetime Achievement
When I read the nomination on 4KM and 4KJ, Mrs Murphy was shocked that Sue Waters had not yet been acknowledged in this category. Sue works for Edublogs (which is the blogging platform we use). She is a real blogging enthusiast, going beyond her job description by helping people with blogging at all hours of the day and night. Whenever Mrs Murphy has had a question, she has been there to answer and within record time. Her how-to-guides are full of all sorts of information that are so helpful.  As Mrs Morris and Miss Jordan said, "She is a real blogging guru who has a passion for helping others."
These are our nominations and as I said they were very hard choices!
Who would you nominate?
Why would they get your vote?